Upcoming Board Meetings and Hearings. Public is invited. Meetings are located at the Mound City Library, 630 Main Street, Mound City, Kansas
– September 10:
– 8:15 am – Revenue Neutral Rate Hearing (RNR Hearing), following the RNR Hearing, Budget Hearing, and then our monthly Board Meeting
Why did the Mound City Library request a Revenue Neutral Rate Hearing?
Because the Linn County assessments were up, the mill levy went down, this changed the amount of allocation money we will be receiving from Linn County, which is our main source of funding.
With the cost of utilities, resources and supplies all rising, the Mound City Library would like to continue providing resources to members of our community, and the Revenue Neutral Rate Hearing helps make sure that we can do so.
If a community member owns a house valued at $100,000. The amount of the increase is $54.45. The cost of 2 books or 3 DVD's.
Some of the services we offer:
Ancestry Library for public use
Book/DVD/Resources checkouts
Free WiFi (24/7)
Computers to use
Printing services
Quiet space for taking remote exams and classes
Scanning and Emailing services
Faxing services
Laminating service
Community events for all ages
Story times
Book Club
Challenges and contests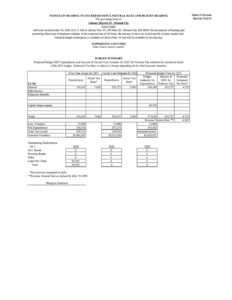 Click the following to download: 2023 Budget Lib Dist 4(1)
– October's Board of Trustees Meeting is October 22, 8:15 am