Our Libraries Services and Collections
Services we offer at the Mound City Library:
– Ancestry Library available for you to use when you visit the library. Our patron computers are set up with the account for you to use when you are here.
– eBooks and Audio Books*
– copying, printing and scanning
– Book checkouts
– Audio Books (Adults and children's)
– Access to free eBook and audio books with Hoopla and cloud library
– DVD checkouts
– Computers to use
– Free WiFi, during open hours and after hours
– Genealogy Room
– Crafts to go (all ages)
– Story times
– Activities & Events
– Quiet space to work and/or read
– 1,000 Books Before Kindergarten
– Partnership with Parents As Teacher's to offer additional programming and resources for families
– Recharging stations (inside and outside)
– Kansas Talking Books
– TumbleBooks
– Kansas Library Catalog

Access to Ancestry Library!
The Mound City Library holds a membership with Ancestry's Library edition. To use, visit the Mound City Library and log on to our computers!
Apply for a library card
You can , download the application, and/or visit the library to apply for your card. There is no fee for the card, and unless you misplace or damage the items you check out, there are no late fees.
Click on the application image below to download.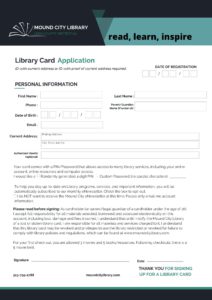 The Mound City Library Policies can be found by clicking here.
Mound City Library - District #4
Mary Sommerville Library
630 Main Street
Mound City, Kansas 66056

► Library Hours
Mon - Fri: 9:00 am -5:00 pm
Sat: 9:00 am - 12:00 pm

► Phone