Story Time has already began with summer! Join us on Wednesdays, from 10:30-1):50 am, for Children's Story Time. Weather permitting we will meet under the umbrella for story time. Please enter the library to let us know you are here. Parents and/or caregivers are required to stay during the story time.
Through the month of July there is a reading challenge for all ages!
Prizes will be given when age-appropriate challenge goals are met. Check out our facebook page for updates on the reading challenge!
This July and August, the Mound City Library is experimenting with Science for our Summer Reading program. The program is limited to 20 students per class. Each event (class) is for ages 1st-6th grade.
To reserve your spot(s), you can visit or call the Mound City Library at 913-795-2788. You will need to register for each individual event/class.
Please note: we have coordinated dates with the Pleasanton Library, so if you are unable to attend a date in Mound City, it is possible to attend the class in Pleasanton, or vice versa.
You must be registered in advance to reserve your spot(s). 
Below are the dates for both Mound City and Pleasanton. To reserve your spots, you can visit or call the Mound City Library at 913-795-2788. To register in Pleasanton, please contact the Pleasanton Library.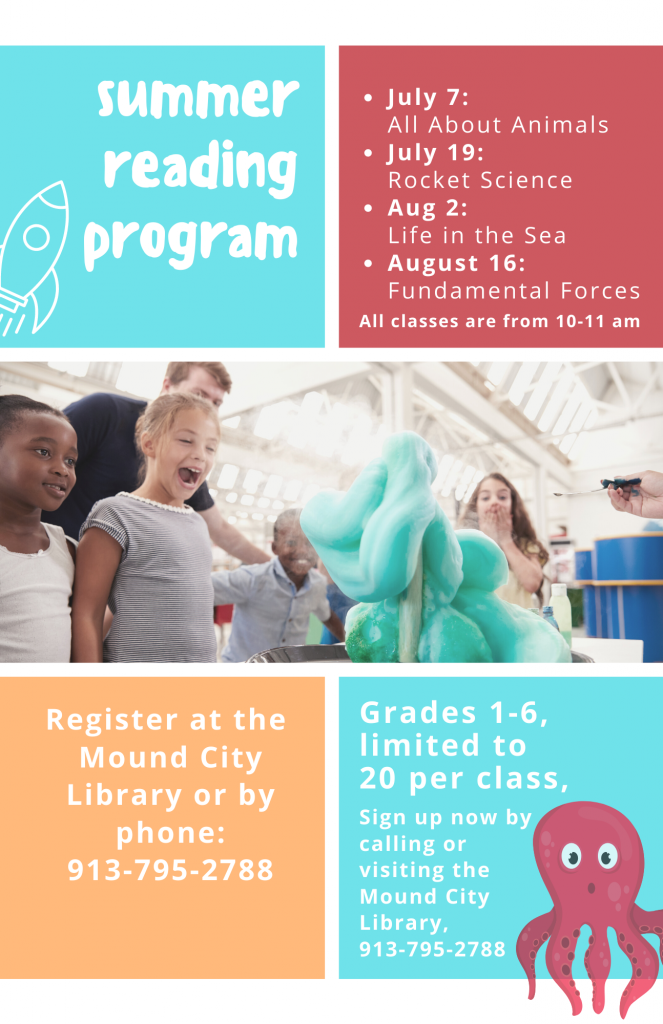 July 7th (10:00-11:00 am): All About Animals!
July 19 (10:00 – 11:00 am): Rocket Summer
August 2 (10:00 – 11:00 am): Life in the Sea Workshop
August 16 (10:00 – 11:00 am): Fundamental Forces Workshop